I went to the gym on Sunday night and I failed to realize that the gym closes really early on that day.  I literally had 20 minutes in the gym before they turned off all the lights, so I put together a quick routine to work out every single muscle in my body.  If you don't have a gym membership, read the end of this post for the 15-minute bodyweight workout.  See that? Everybody wins!
Squats– I have a love/hate relationship with squats.  Most of the time I hate them, but I love how I feel afterward.  My legs hate squats, but they love it when I can lift even more weight the next time.  Plus, when you do squats with perfect form, you work every muscle in your leg, lower back, AND your abs.  After a quick 2 minute warm-up (rapid fire jumping jacks to get my heart racing and muscles warm), I did three sets of Squats (reps of 10, 8, 6) waiting one minute between sets.  Each time I added weight to the bar.  To read about perfect squats and why you need to do them, read my squats article here.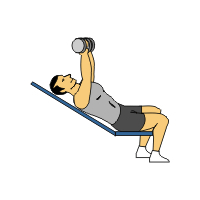 Incline dumbbell press – Grab a weightlifting bench, and set the angle at 45 degrees or so.  Grab two dumbbells, and press them up above your head as if you were doing an incline benchpress with a barbell.  Three sets of 12, 10, 8 (increasing weight, one minute between sets).  This exercise works your chest, shoulders, and triceps.  Concentrate on perfect form, and don't lower your upper arms past parallel (to the floor).  Bring your hands in together at the top so you almost clink the two dumbbells together.
Pull ups and chin ups – Find a bar, grab it with either an overhand or underhand grip, and pull yourself up.  Overhand grip (palms away from you) will work your back more than your biceps, and an underhand grip (palms facing you) will work your biceps more than your back.  Do a set of overhand grip pull ups until exhaustion, wait a minute, do another set of overhand grip pull ups until exhaustion, wait a minute, then do a set of underhand chin ups until exhaustion.  Make sure you go all the way down (just before locking out your arms), and get way above the bar on the top, or it doesn't count!  If you can't do a full pull up yet, read this article (with video) on how to build up to them.
Want to burn even more fat while you're at it? Do this whole routine as a giant circuit (you can ready more about circuit training here).  Keep the weight the same for each set, but go in this order:
Squats – 12 reps
Incline Chest Press – 12 reps
Pull ups – as many as you can.
30 jumping jacks
Do this cycle 3 times, without stopping.  15 minutes, build muscle and burn fat.  Not too shabby!
No Gym? Do body-weight squats or lunges (with your hands behind your head, prisoner style), and then do decline push ups (with your feet up on your bed or a chair or something).  Stick with regular pull ups.   For a more accurate description on how to do these exercises, read my article on body weight exercises, "No Gym? No Problem!"
Pretty damn simple, pretty damn effective.
-Steve